This week, our new sock based on the characters from Grounded: the Seven, is Jasmine's Ethereal Socks!
Jasmine: A sweet remembrance of summer. Calm and flowing and a support for those around her. Jasmine is the calming influence that we all wish we had in our lives…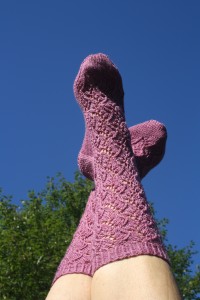 Especially these days.
Before we wax rhapsodic about Jasmine's new socks…
Meg, Eleanor our awesome Tech Editor, and I all came to an agreement.
From any and all sock sales (whether individual Grounded Socks you find below or the eBook Novel Socks) and any and all pattern sales from my own Ravelry store or personal Shoppe through Sunday, November 30, 2013—we will send half to Doctors Without Borders to help with relief and rescue efforts in the Philippines .
Our understanding is that hospitals were very badly hit (what wasn't?) which means those who are injured can't get basic medical supplies—even if they can get to a hospital.
We couldn't stand to do nothing.
And if you don't wish to purchase a pattern, please consider donating directly.
Back to the sock:
Jasmine is an adult friend of Mina's who is also psychic and helps Mina in training the kids. Jamaican, gorgeous, and loving, everyone adores Jazz.
The delicate, lacy pattern is 100% Jasmine.
We think you'll like.
---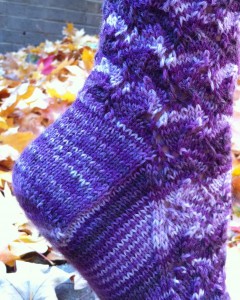 JASMINE'S ETHEREAL SOCKS
SKILLS NEEDED
knit, purl, ktbl, yo, k2tog, p2tog, ssk, ssp, working in the round, slip 1 purlwise (pwise) with yarn in back (wyib)
MATERIALS
Happy Fuzzy Yarn Corrie Sock (75% Superwash Corriedale wool/25% nylon; 435 yards [395m]/
4 oz [114g]) 1 skein; shown in Lavandula colorway — or substitute any true fingering weight yarn
Sizes S&L: US#1 [2.25mm]
Size M: US#1.5 [2.5mm] needles for circular knitting
Stitch markers to mark beginning of round
Tapestry needle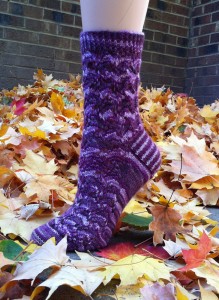 GAUGE
Sizes S&L: 36 sts and 50 rnds = 4 in [10cm] in stockinette Size M: 32 sts and 45 rnds = 4 in [10 cm] in stockinette
SIZE
Women's S, M (L); To fit foot circumference 7.5, 8 (8.5) in [19, 20.5 (21.5) cm]
MEASUREMENTS
Foot circumference, unstretched: 6.25, 7 (8)" [16, 18 (20.5) cm]
Finished leg length (as shown): 6" [14 cm] adjustable Finished foot length: adjustable

---
Our Other Grounded Socks thus far:
Rosie's Firestarter socks are easy-to knit because there's only little panel of something other than stockinette and that runs down the outside of the sock (making a distinct right and a left sock).
But because Rosie hates to be bored there's also a Welsh heel (like the WWMDfK? Fosco socks) and a fitted arch.
Thus, these suckers FIT. They hug your foot nicely and the leg bit is easily extendable for you to make it as long as you need.
Want to add calf shaping if you decide to go long?
It's easy to do because the back of the leg is pure stockinette.
(Andi's book Big Foot Knits would help with planning for that).The yarn comes from Riin Gill of Happy Fuzzy Yarn in her Sugar Maple colorway.

 or buy yarn+pattern kit!