Justin's Stubborn Socks gave us a little trouble trying to get photos, but Justin always pulls through when the chips are down.
Perhaps the most misunderstood of The Seven, Justin is the one who ultimately has your back. Good looking, stylish, and with a (slightly?) haughty sense of humor, Justin is the only one of The Seven who won't be allowed back in his house unless he can stop being psychic.
Yeah. Right.
So Justin has to find his own way, for now. These socks are a classy addition to his wardrobe, reminding him that he doesn't need to pull down glamours to be glam.
SKILLS NEEDED
knit, purl, working in the round, ktbl, k2tog, ssk, p2tog, slip 1, slipping knitwise (kwise) with yarn in front (wyif ), Kitchener stitch
MATERIALS
Happy Fuzzy Yarn Corrie Sock, (75% Superwash Corriedale wool/25% nylon; 435 yards 395m/ 4 oz 114g) 1 skein; shown in Steel and Purls colorway – or substitute any true fingering weight yarn
Sizes S&L: US#1 [2.25mm]
Size M: US#1.5 [2.5mm] needles for circular knitting
Stitch marker to mark beginning of round
Tapestry needle
SIZE
Women's S, M (L); To fit foot circumference 7.5, 8 [19, 20.5 (21.5) cm]
GAUGE
Sizes S&L: 36 sts and 50 rnds = 4 in [10cm] in stockinette
Size M: 32 sts and 45 rnds = 4 in [10 cm] in stockinette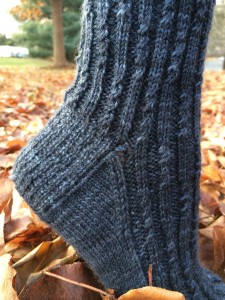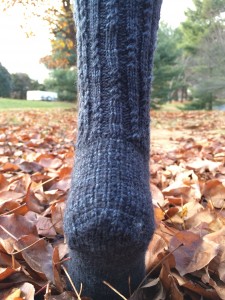 ---
Rosie's Firestarter socks are easy-to knit because there's only little panel of something other than stockinette and that runs down the outside of the sock (making a distinct right and a left sock). But because Rosie hates to be bored there's also a Welsh heel (like the WWMDfK? Fosco socks) and a fitted arch.

Thus, these suckers FIT.

They hug your foot nicely and the leg bit is easily extendable for you to make it as long as you need. Want to add calf shaping if you decide to go long?It's easy to do because the back of the leg is pure stockinette. (Andi's book Big Foot Knits would help with planning for that). The yarn comes from Riin Gill of Happy Fuzzy Yarn in her Sugar Maple colorway.

 or buy yarn+pattern kit!